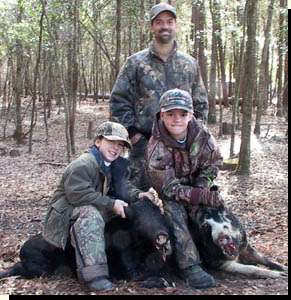 Just as the hog was winding him, J.R. Green, on the right, had to move quickly, and he dropped his trophy boar.

Cayla got the drop on hers when she moved in on a group of hogs that were busy competing for feed. Her challenge was the opposite of her brother's - she had to be patient until her hog moved into position letting her take her shot. Her hog took a bullet fragment to the heart!

Dad, Jason Green, was lucky enough to get it all on video, and is super proud of his two excellent hunters!